Beaten Rice Flakes (Aval in Malayalam and Poha or, Chevda in Hindi) is a favorite in most parts of India. You will find one or, the other recipes using this. In parts of Bihar, you will find it in Doodh-Chevda-Kela (combination of milk, rice flakes and banana), in Maharashtra it is in the form of roasted flakes, also know as Chevda fry and Aloo poha.
In southern India, it takes a completely different form and it is liked in a sweeter version. Aval Varattiyathu or, Aval Velayichathu, as it is called in Kerala is specialty of my mother-in-law. The first time she made it, I simply couldn't stop eating. This recipe is made up of rice flakes and jaggery. You can also add dry fruit depending upon your choice.
Grated coconut is also used which gives it a nice taste and flavor. How much jaggery you are using will depend upon how sweet do you want it to be.
This recipe can be stored for a few days, so don't worry about having to consume it all in one go.
Let us get onto the recipe now.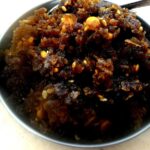 Aval Varattiyathu Recipe – Sweetened Beaten Rice Flakes
Print Recipe
Ingredients
Ingredients:

Beaten rice flakes

brown/white : 2 cups

Jaggery : 1 cup

grated

Fresh Coconut : 1 cup

grated

Cardamom Powder : 1/2 tsp

Black Sesame Seeds : 1 tsp

Dry Ginger Powder : 1/4 tsp

Split Chick Peas / Chana Dal : 2 tbsp

Ghee/Clarified butter : 2 tsp

Water : 1/4 cup
Instructions
Melt the grated jaggery with water in a heavy bottomed pan on a low flame. Strain this to remove any impurities.

Now reheat the strained syrup on a medium heat, stirring in between till it reaches one thread consistency.

Now add grated coconut and stir till all the water gets absorbed from the coconut.

Add the beaten rice flakes and mix.

Cook over a low flame stirring in between, so that the beaten rice flakes gets coated with jaggery and coconut.

Add cardamom powder, dry ginger powder to it and mix well.

When the mixture thickens turn off the fire and set the mixture aside.

Now heat ghee in a small pan.

When it is hot add chana dal and roast them until golden brown.

Remove the chana dal from ghee and add to the sweetened beaten rice flakes mixture.

Now add sesame seeds to the hot ghee and roast them lightly ensuring that it does not burn.

Pour the ghee and sesame seeds on to the sweetened beaten rice flakes mixture and mix everything well.

Now the beaten rice flakes recipe is ready to serve.

This can be served hot and cold both.
Recipe Notes
You can adjust the quantity of Jaggery as per your taste.
Once it is cooled completely, you can store it in an airtight container in fridge for a month or so and you can also store it at room temp in an airtight container for 2-3 days.
Do not cook the mixture for long after adding Aval, overcooking may harden the Aval.
A lot of time, effort and passion goes into each post. My greatest satisfaction comes from your feedback. If you really liked this post and found helpful to you, please take a minute of your time to leave a comment and share it so that others have access to it as well. Thank you all for your support.  🙂