Ingredients (Serves: 6)
1 Kg: Green Brinjal( sliced into long pieces),
If unavailable, you can use the normal small brinjals.
Panchforan ( or cumin seeds) – 1/2 tsp
8 clove garlic (chopped)
Mustard oil – 6tbsp
2 Bay leaves
2 Dried red chillies
Salt to taste
Chopped coriander leaves
Powdered masala:
½ tsp turmeric
2 tsp coriander powder
1 tsp Cumin powder
1 tsp garam masala powder
1 tsp: Red chilli powder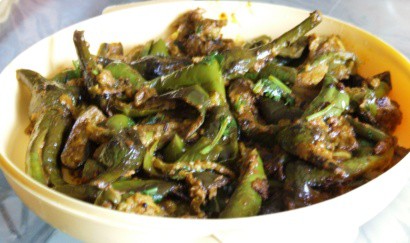 Method – Preparation time = approx 20 minutes:
Heat the oil in karaahi (a deep frying pan) and add panchforan seeds,bay leaves and dried red chillies to it.
As soon as panchforan starts to splutter, put the brinjal in the oil and cover the lid of karaahi and cook for two or three minutes on high flame .
Now reduce heat and add turmeric and salt to it then cover it again for 2 minutes.
Then add all the powdered masalas and garlic paste and mix very gently so as not to break the vegetables .
And Cook the brinjal till it gets tender and its starts looking red,and the oil will start to float on the surface. This usually takes 10 minutes.
Take the pan off the fire and garnish with chopped coriander leaf, and serve with rice and 'arhar ki dal' (A simple curry made of yellow lentils).