The term "Masala" attached with any recipe, brings a tangy taste to your mouth. While the term "masala" is associated with "spiciness" more often than not, it is actually incorrect to do that. Masala is not always spicy though that could be just one aspect of it.
To be frank with you, until about a few years back, I only knew about making just one thing with peas. It was "aloo matar". Other than that the most use that I found with peas was to add that into other recipes like aloo poha, Pulao etc. But, my quest for variety made me experiment a lot with peas. Some of them turned out to be good and tasty recipes and yet others… I had to forget.
But this one, I am sure you will all love. This is a quick and easy recipe and will not take too much of efforts.
Now onto something even more interesting!
Did you know that "Peas" are considered to be one of the healthiest and most nutritious vegetables?
• Peas are extremely good for weight management because of the fact that it is extremely low on fat but high on everything else.
• Peas contain a health protective polyphenol called "Coumestrol" which is proven to help prevent stomach cancer
• The high levels of anti-oxidants in peas can help build a strong immune system, an energetic body and is also said to help in anti-aging.
• It even helps in blood sugar regulation, thanks to the high fiber content in it.
So if that was enough information on Peas, let us dive straight into the recipe and see how peas masala is made.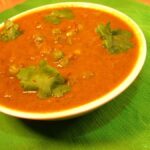 Creamy Green Peas Masala
Ingredients
Fresh or frozen peas - 1 cup

Onion - 1

finely chopped

Chana masala/ chole masala - 1 tsp

Red Chilli powder - 1/2 tsp

or as per your taste

Kasturi methi leaves - 1/2 tsp

Coriander leaves - 1 tbsp

chopped

Salt - as per the taste
To saute and grind:
Tomatoes - 4

medium

Onions - 2

roughly sliced

Ginger - 1/4 inch piece

Garlic - 6 pods

Green chillies - 2-3
Ingredients to make cashew paste:
Cashew nut - 5-6

Curd - 2 - 3 tbsp
For tempering:
Cloves

- 3

Cinnamon - 1/4 inch piece

Cumin seeds - 1/2 tsp

Bay leaf - 1

Butter - 2 tbsp

Oil - 1 tbsp
Instructions
In a deep pan add water and peas.

Cook peas till it gets cooked and set side.(You can also pressure cook the peas)

Now in a pan or kadhai add a tbsp of oil.

Add onion, tomato, ginger, garlic and green chilli, saute till tomatoes gets mushy.

Let it cool down and grind it to a fine paste. Set aside.

Now grind cashews along with curd to a smooth paste and keep it aside.

Heat butter in a pan or kadhai add cumin seeds, cloves and cinnamon.

Let it splutter.

Once it starts spluttering add chopped onion and saute until brown.

Now add tomato paste and stir well.

Saute for 3-5 mins then add channa or chole masala, red chilli powder and salt.

Add water as per required and let it boil.

Now add the cashew paste and stir well.

Add cooked peas, and cook for about 5 to 7 minutes on a low flame.

Once it gets boiled add kasturi methi leaves and chopped coriander leaves and switch off the stove.

Serve peas masala along with vegetable rice, roti, simple pulaos, puri, tandoori roti or paratha.
Please do take a little time to comment on the recipes, as your feedback means a lot to me. And don't forget to share the recipes on your favorite social networks sites. 🙂