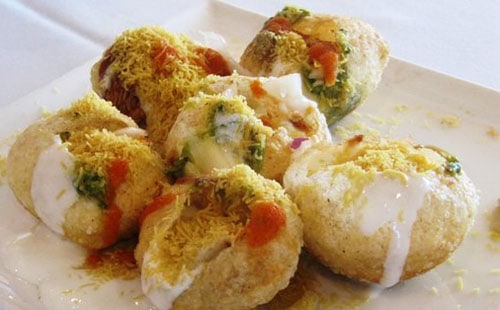 Ingredients:-
Puris – 30 to 35
Mixed sprouts – 2/3 cup
Boiled potatoes – 2/3 cup,cubed or little mashed
Khajur Imli ki chutney – 1 cup
Curd – 3 cups
Salt as per taste
For Garnish
Sev – 1/2 cup
Chilli Powder – 2 tsp
Rosted Cumen seeds – tbsp
Chopped Coriander – 2tbsp
Chatt Masala – 2 tbsp (optional)
Method:-
Keep puris on a serving plate and crack a small hole in the centre of each puri.
Now add salt to the curds,mix well and keep it aside.
Fill it with the mixed sprouts, potato, khajur imli ki chutney and top with fresh curds.
Sprinkle sev, chilli powder and cumin seed powder ,chatt masala on top .
Garnish with the chopped coriander and serve immediately.
Note: If you want you can fill this puri with the chilled curd as it will be more tasty.