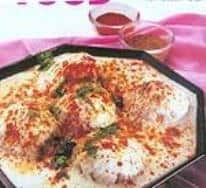 Ingredients:
For Vada:
1 Cup Urad daal without skin (black lentils)
1 teaspoon ginger
Salt to taste
Oil for deep frying
Ingredients for Dahi :
4 cups fresh yogurt
1 teaspoon Black Salt (Kala Namak)
1 teaspoon freshly roasted and powdered cumin powder
2 teaspoons sugar
Salt and Red chilli powder to taste
Finely chopped coriander leaves for garnishing
Preparation:
Clean, wash and soak the daal overnight.
Grind the urad dal with salt and ginger, adding just enough water to make into a thick and smooth paste.
Heat oil for deep frying on a medium flame. Grease your palms with oil and put 1 tbsp of the lentil mix in your palm.
Make into a donut shape (these are the vadas), Slide each vada into the hot oil and fry till light golden.
Now heat a big broad pot of water; once hot turn off heat. Add the Vada's to the hot water. Don't add too many at a time. Give enough space for the Vada's to breathe, as they tend to expand more in water.
Keep in water for about 5 minutes or until they are soaked. Take the Vada's out and very gently squeeze them to take the excess water out. Don't squeeze them too much to make them flat. Once all the Vada's are soaked, set them aside.
Soaking the Vada's in water makes them soft and fluffy and juicy, they also tend to absorb the yogurt well when soaked in them.
How to serve:
1). whisk the yogurt(curd) and little water until it is smooth.
Keep in refrigerator for an hour to get chilled and add 1/2 table spoon salt, red chili powder and cumin powder.
2). Place the Vada's in a serving bowl and pour the yogurt mixture evenly over the Vada's, covering them completely.
3). Sprinkle red chilli powder and roasted cumin powder and garnish with chopped coriander leaves .