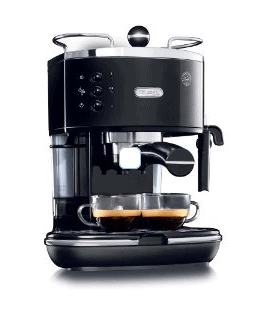 About a month back I bought this Espresso Machine and I felt one month was good enough time to do a review about it.
While I loved the machine, it is good that I mentioned everything that I like and not so much liked.
Amazon has always had a slight problem in shipping to India but thankfully this was shipped.
To start of with let us first look at a few of the product features –
Product Dimensions: 10.2 x 9.1 x 11.8 inches ;
Use convenient pods or ground coffee with the patented dual function filter holder. It makes espresso preparation simple and fast.
Easily prepares latte and cappuccino with the patented "Cappuccino System" frother. It mixes steam and milk to create a rich, creamy froth for perfect drinks every time
Eliminate annoying start-up preparation with the self-priming operation
Always brew espresso or cappuccino at the perfect temperature with two separate thermostats, which allow for water and steam pressure to be controlled separately
Enjoy delicious espresso for years to come with the durable, high-quality stainless steel boiler and 15 bar pump pressure
DeLonghi ECO310BK 15-Bar-Pump Espresso Machine Review
I loved the look of the machine but what was more important was that I like the quality of the espresso and so it was. Though at times I felt that the espresso was not creamy and was luke warm, I later realized that I should have read the manual clearly.
This is highly recommended because that can help you get over with this complaint, if at all you have any.
From an espresso quality perspective, I was very happy and I loved the quality.
The machine heats up very fast and that means less time for the entire process. Since the drip tray is easy to remove and clean, you will not have a problem on that front.
My kitchen was not too big and I wanted something that would not occupy the little real estate in there and this machine perfectly fit into that.
Rating – [xrr rating=4.5/5]
[DKB url="http://www.amazon.com/dp/B002Q0EE4U/ref=as_li_ss_til?tag=dksp-20&camp=213381&creative=390973&linkCode=as4&creativeASIN=B002Q0EE4U&adid=1S14E3ZCE0R6F9XQ715Y&&ref-refURL=http%3A%2F%2Fwww.thetastesofindia.com%2F%3Fp%3D861%26preview%3Dtrue" text="BUY NOW" title="Ezpresso machine" type="normal" style="gradient" color="red" height="25″ width="125″ opennewwindow="yes" nofollow="yes"]