Cakes are everyone's favorite. While most kids fall for chocolate cakes, people like me love plum cakes. I would wait for December to get those tasty and nice plum cakes from my Christian friends. I have tried my hands at making plum cakes, but for some reason I find that the taste of the cake that my friends get for me during Christmas is totally different from the ones I make. Maybe it is that love that they add that makes it different.
Fried Cake Recipe
When I was a kid, my definition of cakes were a little different. We were used to see muffins and fried cakes and that was what it was for us. And fried cakes were our favorite. Most bakeries in our small town would sell these fried cakes and even muffins were rare.
Since I had heard that it takes a lot of time to make these fried cakes, I never attempted it. And these days with the variety of cakes available at the local bakeries, I thought even the kids might not be too keen for fried cakes.
It is my mother-in-law who encouraged me to try it out and since she was good at making these, I dared to experiment. And to my surprise, all that we made was finished off much faster than we thought. Even my little daughter was found asking for it again and again.
If you are not too choosy about specific types of cakes, then I would say.. you should try this. I am sure you will love it.
So here it is.. my bold experiment.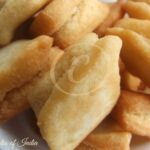 Fried Cake Recipe
Print Recipe
Ingredients
Egg- 1 large

Powdered sugar- 1/2 cup

75 gms

Baking soda- 1/4 tsp

All purpose flour- 1 cup

Cardamom powder- 1/4 tsp

Ghee - 2 tbsp

Oil- to deep frying
Instructions
In a large bowl, mix egg and powdered sugar together until combined and set aside.

In a separate bowl add all purpose flour, baking soda, ghee and cardamom powder.

Mix and rub the flour with your palm for about 30 seconds until you start seeing the flour binding together in your hand.

Now add the mixture of egg and sugar to it.

Add water and knead the mixture gently to form a smooth dough and set aside for 5 to 10 minutes. (Do not add all the water at once)

Divide the dough into two large round balls.

Roll out each ball into thick circle.

Now cut the circle in big-big diamond shapes.(shape should be 1/2 " thick)

Now make one deep cuts in each slice.

Heat oil in a pan and deep fry over medium heat, until it turns golden brown.

Drain on to a kitchen towel, allow it to cool completely.

Store in an airtight container for up to a week.