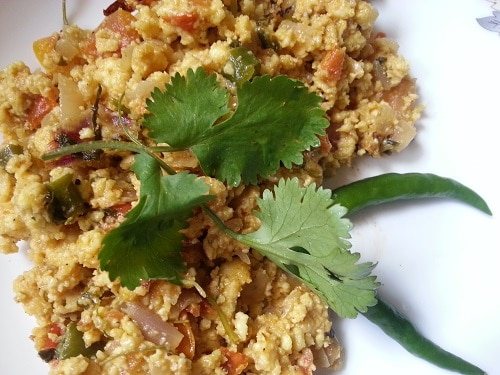 Paneer Bhurji is an easy and healthy Indian Breakfast recipe made with crumbled paneer. Its a Quick Indian Recipe and does not require much time to make. Paneer bhurji can be served along with bread or rolls or pav/indian bread, rotis or parathas/naan, it can also be served as a side dish.
Paneer Bhurji and Egg Bhurji are very famous in any Indian Restaurant/Dhaba. The best part of this recipe is that you can make it a day before and refrigrate it,  and the very next day you can make variety of dishes using this Bhurji such as – bread sandwich, stuffed paneer bhurji paratha, chapati paneer bhurji roll and it can also be stuffed in between two pav and and you can enjoy the Indian Burger. 🙂
Basically I have prepared this recipe for diet purpose, so the quantity of oil I have added was negligible. So you can adjust the quantity of oil as per your requirement. Though I would suggest you that to make paneer bhurji, 1 tsp oil is more then enough. All you have to take care is to make it slow flame so that it does not get burnt.
Ohh… I am forgetting something here…If you are left with old chappati then you can use those old chappatis to make (chapati paneer bhurji roll) for breakfast. But if you are making it with leftover chapati then avoid packing it for lunch box as it might get spoilt.
Ingredients:
Paneer- 250 gm (grated or crumbled)
Oil- 1 tbsp (oil quantity should be negligible or 1/2 tsp if you are making this for diet purpose)
Cumin seeds- 1/4 tsp
Green Chilies- 2 finally chopped (optional if making for kids)
Onion- 1 big (finaly chopped)
Turmeric powder- 1/4 tsp (optionl)
Garam Masala Powder- 1/2 tsp
Kitchen king or chicken masala powder – 1/2 tsp (optional, depends on the availability)
Tomato- 2 big (finally chopped)
Salt- as per the taste
Dry kasturi Methi- ½ tsp
Coriander leaves – handful (finely chopped)
Lemon – as per needed (optional)
Method of Preparation:
Heat oil in a pan, add the cumin seeds, chopped onions and fry till golden brown.
Add the chilies and tomatoes and fry till they are soft and pulpy.
Add turmeric powder, garam masala powder, kitchen king or chicken masala powder, salt and mix well so that all the masala are well combined.
Add grated paneer and fry for 5 minutes till the paneer gets mixed up into the masala.
Sprinkle kasturi methi and mix well .
Garnish with chopped coriander and serve hot.
You can serve paneer bhurji along with Chapati, Naan, Puri and Paratha.