Peanut-Coconut Cookies – It is very funny how fast our tastes change. A lot of things that we never liked sometime in our lives are things that we start to like and enjoy in a different phase of life.
Take for example, bitter gourd. I never liked it as a kid because of its bitter taste. Fast forward it to today and it is one of the vegetables that I liked the most. If you are wondering why all this discussion about bittergourd in a cookie recipe, then I was just trying to be philosophical and building a context for what it to come below….Lol. 🙂
Just like bitter gourd in my story above, I disliked cookies when I was a kid. You might want to attribute that to the "grapes are sour" story, because cookies were a little too expensive for us and hence were something that we preferred to avoid. And today here I am writing a cookie recipe and enjoying and savoring the taste even as I write it.
More then any biscuits I prefer having cookies now. They have a unique and rich taste which is probably one of the many reasons that I like it. These nutty and textured cookies are perfect for kids and is perfect for holidays or any other time.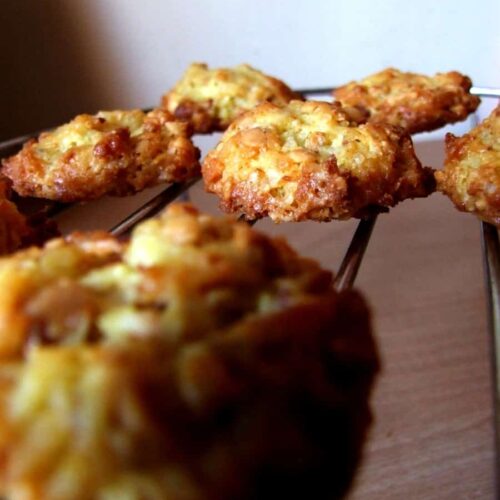 Peanut-Coconut Cookies
Ingredients
All-purpose flour - 1 1/2 cups

Baking Powder - 1 tsp

Baking Soda - 1/4 tsp

Egg - 1

Packed light brown sugar - 3/4 cup

Sweetened coconut - 1 cup

flaked or shredded

Old fashioned oats - 1 cup

Skinless Peanuts - 3/4 cup

chopped (unsalted roasted)

Unsalted Butter - 3/4 cup slightly softened

Fine Salt - 1 tsp
Instructions
First of all place 2 racks in the middle of the oven.

Preheat the oven to 400 degrees F.

Place 2 baking sheets parallel against each other. Place 2 silicon baking mats in it.

Now in a medium bowl whisk the flour, baking soda, baking powder and salt together.

Melt the butter in medium saucepan over low heat.

Remove the pan from the heat, and stir in the brown sugar with a wooden spoon.

Add the egg and the flour mixture (do not over mix).

Now add the coconut, nuts and oats to make a rough cookie dough.

Keep it aside for about 30 minutes or until it gets to room temperature.

Scoop balls of the dough onto the prepared pans with tablespoon-sized ice cream scoop, by taking care that it is spaced a little away from each other.

Now bake for the cookies for about 12 minutes or until the cookies are golden brown and the edges are toasted properly.

Let the cookies cool for the couple of minutes and serve.
Notes
Cookies are good to be packed for kids lunch box.
If you found this post useful, please do take a little time to comment on the recipes, as your feedback means a lot to me. And don't forget to share the recipes on your favorite social networks sites.🙂