Pyaaz ke Pakore (onion fritters) is a classic Indian snacks made with gram-flour and onion. Pyaaz ke pakode is a quick Indian recipe and can be easily prepared in about 15-20 minutes. These pakodas can also be served as a starter along with various kind of sauces or chutneys. Moreover its a great recipe for monsoon, especially when it is served along with hot ginger tea/chai.
Ingredients:
6 onions
4 to 5 Green chillies
2 Cups besan (Gram flour)
1/2 tsp ajwain (carrom seeds)
1/2 Cup rice flour
1 tsp. Turmeric powder
Salt to taste
Finely Chopped coriander Leaves – 4 tsp
Oil for frying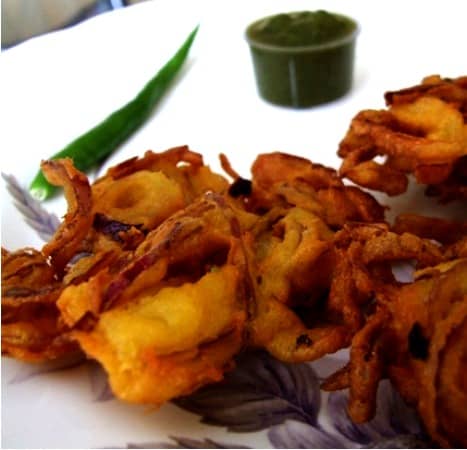 Method :-
Cut the Onions into thin slices.
Mix the gram flour with salt, green chillies, ajwain, coriander leaves and rice powder in water to a semi-solid paste (Avoid using excess water).
The dough should not be too thick nor too loose. Now put the onion pieces into the flour. Mix it well (make sure there are no lumps).
Heat oil in a pan. Take small picks of the mixture (the onions dipped in the flour) and drop it into the oil and deep fry. When you pick, you should use all five fingers to ensure that the quantity picked is enough and sufficient.
Fry till golden brown turning it in between on a medium flame. When it turns golden brown remove from the oil.
Garnish with chopped coriander leaves and Serve hot as is or with chutney.
Note: If you make the mixture and let it stay for a couple of hours before making the pakodas, your pakodas would be fluffy and soft.