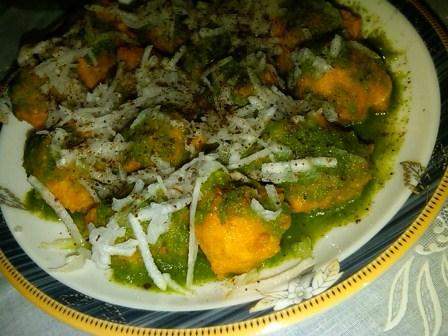 I can never forget those breezy winters in Delhi. Me and my sister-in laws used to walk through the road in Dwarka, craving for Ram Ladoo and Aloo chat. Though I am fond of all kind of chaat items but these two were my favorite. Hot ram-ladoo topped up with green chutney and grated radish(mooli), has an amazing taste.
But guess what??? I don't miss Delhi for that matter, since I have started making it at home and it's very easy to make.
Ingredients:-
For the Ram Laddoo
Dhuli moong dal/ yellow lentils-1/2 cup
Chana dal/ bengal gram-1/2 cup
salt to taste
oil for deep frying
For spicy and tangy Green Chutney
Mint leaves-1/4 cup
Coriander leaves-1 cup
Onion-3-4 tbsp
Garlic pods-2
Green chilies-5-6
Lemon juice-1 tsp
Amla-1  chopped
Rock salt-1/4 tsp
Salt to taste
Water-1/8 cup
Radish grated
Grind together all the ingredients which is mention above to make green chutney using water.And the green chutney is ready.
Method:-

Wash and soak both the lentils separately for 3-4 hours.
Decant the water completely and grind the lentils to a coarse paste.
Mix the lentils and then beat them till the mixture attains a white color and becomes light and fluffy and the mixture should have a dropping consistency.
Heat oil in a pan and using a spoon put the laddoos in the oil. The oil should be hot enough (use medium flame) so that when the laddoos are put they immediately rise to the surface.
Deep fry till golden in color, at a time you can put 7-8 laddoos and remove in another plate .
Serve hot with green chutney and grated radish.(If you want you can also sprinkle some chaat masala on top of it).