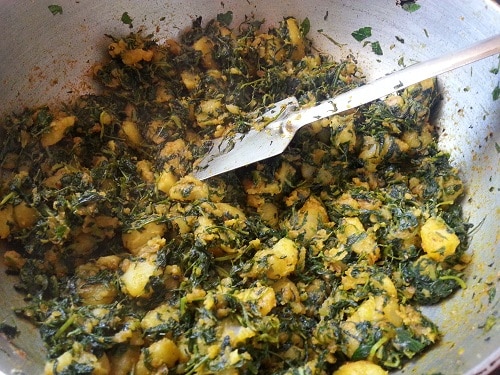 Aloo methi is a classic Indian recipe. Its a combination of potatoes and green methi leaves.This recipe is very simple and easy to make as it takes very less time to prepare.So try this easy healthy recipe today.
Ingredients :-
Potatoes –  4 midium (peel and cut into small pieces)
Methi leaves – 1 thick bunch
Red Chillis – 3
Oil – 1 tbsp
Panch Phoran – 1/2 tsp
Garlic – 6 pods (chopped)
Red chilli powder – 1 tbsp
Turmeric – 1/2 tsp
Salt – as per taste
Method:-
Separate fenugreek leaves from the stem, clean and wash it properly.
Chop fenugreek leaves and keep it aside.
Heat oil in a pan add panch phoran, when splutters chopped garlic and red chili .
Add potatoes, salt, turmeric, red chilli powder.(cover till the potatoes are tender and cooked)
Now add chopped methi leave and fry for 5-10 min until the leaves shrink.
Stir fry at high heat for about 5 min till the mixture gets dry.
Serve hot with roti, paratha and puri.