For a change I thought I will review a very handy book that I have been referring to for some time in this Paleo recipe Book review. Paleo Recipes are said to be one of the healthiest recipes because of the nutritional value that these recipes carry. Before we look at how nutritional this diet plan is and do a complete review of one the best Paleo recipe book available today, let us look at what this recipe is all about.
This is what the Wikipedia had to say about Paleo Recipes –
The paleolithic diet (abbreviated paleo diet or paleodiet), also popularly referred to as the caveman diet, Stone Age diet and hunter-gatherer diet, is a modern nutritional plan based on the presumed ancient diet of wild plants and animals that various hominid species habitually consumed during the Paleolithic era—a period of about 2.5 million years duration that ended around 10,000 years ago with the development of agriculture. In common usage, such terms as the "Paleolithic diet" also refer to the actual ancestral human diet.
That should give you a fair idea of what a Paleo Diet is. Though it is not a weight loss plan, it can help you in being healthy and fit and not accumulate unnecessary fat. This diet along with a little exercise should do the trick for you if you are planning to reduce weight.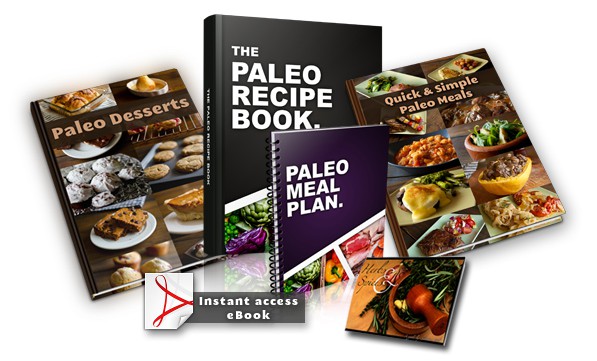 Paleo Recipe Book Review – The Book
The Paleo recipe book is a one of its kind e-book available today.
The recipes are 100% Paleo approved.
More than 370 recipes, categorized into 18 different food categories.
Includes cooking guides, charts and references for a better understanding.
Includes a wide variety of food categories like desserts, snacks, main courses etc.
Comes with 4 bonus book, each of which complement the main e-book.
The bonus e-books include a meal plan, an additional recipe book and a handy guide on herbs and spices. The book has a decent representation of the recipes in the form of beautiful photographs as well.
The Paleo Recipe Book Review – My Opinion
I was pleasantly surprised by the quality of the book and the information contained in the book. The recipe book was not just a collection of recipes. But it also had some excellent guidance on cooking and some other cooking tips as well. So if you are somebody who gets over-whelmed with the idea of cooking, then this is the guide you should follow.
The information in the guide was neatly laid out in an easy to understand form. The charts and references come in handy when you feel the need for additional information. The flow of information also followed a smooth transition so you did not feel lost in the middle of the book.
Beautiful pictures of the recipes complemented the overall book and I was actually in love with the book.
Conclusion – Is it worth it?
The Paleo Recipe book is priced at $27.00. At that price it was a steal of a deal. You cannot get so much of information and so many recipes together in one book for that price.
If you are looking for a healthy diet plan that helps you stay fit and healthy, then the Paleo recipe is the way to go and we would certainly recommend this book after our Paleo recipe book review.
You can check out the book and place your orders here.