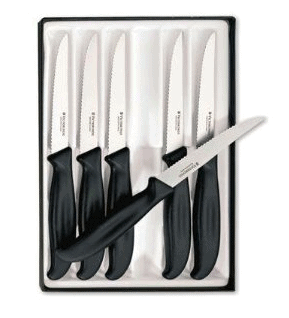 One common thing that most people spending most of their time in the kitchen, keep hunting for is a set of good knifes. I too, would shop around for good knives but more often than not, I have been disappointed with the quality of the knives I purchased.
It is hence that I love this product at Amazon.
Victorinox knifes were something that I have seen, thanks to an unusual hobby that my husband has. That was another reason why I did not have to think twice before buying this set of 6 knives and I should say I am not disappointed.
Victorinox 48792 Product Features:
Let us first look at some of the features of this knife set –
This is a set of six 4-1/2-inch steak knives with wavy serrated edge and pointed tips
It is made of Stamped stainless steel blades created with special tempering process to help preserve sharp edge.
The knives are ergonomically designed, NSF-approved black polypropylene handles.
These will stand up to years of daily use without undue deterioration or wear.
This set comes with a limited lifetime warranty.
My review – Victorinox 48792 Cutlery 6-Piece Steak Knife Set
First things first. What impressed me most was the cost of the set. At the price that I bought this, it was one of the cheapest, good quality, good brand knife set that I had ever bought.
These knives were extremely sharp and their sharpness just stayed that way, immaterial how much you use and how long you use. I had my knife set for more than 3 years now and the sharpness is just the same.
These are extremely handy and lightweight. I never feel like I am holding a knife unlike a few other brands that are very heavy.
One aspect that I was not too impressed with is the look of the knifes. Though they were not cheap looking or, shabby, they were neither too elegant and beautiful.
If you are looking for quality utility at a low price and are not too concerned with the looks of the knives, then Victorinox 48792 Cutlery 6-Piece Steak Knife Set is for you.
My Rating = [xrr rating = 4/5]
[DKB url="http://rcm.amazon.com/e/cm?lt1=_blank&bc1=000000&IS2=1&bg1=FFFFFF&fc1=000000&lc1=0000FF&t=dksp-20&o=1&p=8&l=as4&m=amazon&f=ifr&ref=ss_til&asins=B0009NZ6JS" text="BUY AT AMAZON" title="" type="extralarge" style="normal" color="orange" height="" width="" opennewwindow="yes" nofollow=""]