Bhindi Masala Curry Recipe – Bhindi (Lady Finger) is a vegetable that a lot of people do not like primarily because of the mucilage that you normally see in these species of plants. It looks like a slime and irritates a lot of people. But it is noteworthy that Bhindi is an extremely good vegetable when it comes to its nutritional value and this mucilage contains a usable form of soluble fiber. It is a good source of calcium and potassium. But with the way most of us cook it in India, a lot of its nutritional aspects are lost.
I always liked Bhindi even as a kid and Bhindi bhujia, a stir fried side dish was my favorite. This process of making Bhindi had an advantage that the sliminess was reduced. But at the same time, that meant a reduction in the fiber content as well. Bhindi bhujia goes well with rotis and since I always preferred dry side-dishes for rotis, I simply enjoyed this combination as well.
This recipe, Bhindi Masala Curry was an experiment I did and from the praise that I got from my family, I can safely say that it turned out to be a good one.
One aspect that you might want to keep in mind for this recipes is the size that you cut the Bhindi in. Don't cut it too small, else it will get mashed into the curry.
I am sure you will love this curry. Let us jump straight into the recipe now.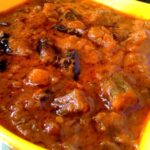 Bhindi Masala Curry Recipe
Print Recipe
Ingredients
Lady finger/bhindi/okra - 250 grams

Onion - 1 large or 2 midium

finely chopped

Bay leaf/ tej patta - 1

Turmeric powder/haldi - 1/4 tsp

Red chilli powder/lal mirch powder - 1/2 tsp

Coriander powder/dhania powder - 1/2 tsp

Garam masala powder - 1/2 tsp

Mustard Seeds - 1/4 tsp

Coriander leaves - 3 tbsp

finely chopped

Oil - 2 tbsp

to saute bhindi + 2 tbsp (to make gravy)

Salt as required
To Grind:
Tomatoes - 3 medium

roughly chopped

Ginger/adrak - 1/2 inch

Garlic - 5 to 6 pods

Green Chillies - 3

or as per your taste

Yogurt/curd - 2 to 3 tbsp

Cloves/lavang - 2

Green Cardamom/choti elachi - 1

Cinnamon/dal chini - 1/2 inch

Mace/javitri - 1 single strand
Instructions
Rinse bhindi well and then drain them completely in a strainer or colander.

Wipe bhindi with a kitchen towel completely. (if you have time then you can let it dry naturally by spreading on some tray or kitchen towel)

After this is done, cut both ends of bhindi and then cut it into 1.5 to 2.5 inch pieces and set aside.

Now in a grinder add tomatoes, ginger, garlic, green chilies, curd, cloves, cardamom, cinnamon and javitri.

Grind or blend everything to a smooth paste without adding water in it and set aside.

Now heat 2 tbsp oil in a kadai or pan.

Add bhindi and saute them on a medium flame.

Fry bhindi/okra until they are cooked, and slightly browned.

Now take out the fried bhindi in a plate and set aside.

Now in the same kadai or pan heat 2 tbsp oil again.

Add mustard seeds and let it crackle.

Once the mustard seeds starts crackling add bay leaf and fry for about 6 to 7 seconds.

Add chopped onions, salt and fry until golden brown.

Now add turmeric powder, red chilli powder, coriander powder and garam masala powder and give it a nice stir.(ensuring it doesn't get burnt).

Now add the ground paste and stir well.

Fry till the masala paste thickens and the oil starts leaving the sides.

Add water as per required and stir well.(do not make it too watery)

Add the fried bhindi to it and give it a nice stir.

Let the curry simmer on a medium flame.

Cook for about another 5 to 6 minutes until the bhindi/okra gets mixed in gravy.

Add chopped coriander leaves and mix well, switch off the stove.

Serve bhindi masala curry along with chapatis, puri, naan or parathas.
Please do take a little time to comment on the recipes, as your feedback means a lot to me. And don't forget to share the recipes on your favorite social networks sites.