Today's recipe is another South Indian Recipe. Because it has lot's and lot's of coconut in it. For people who hate coconut, this might not be a preferred recipe. But I would still recommend that you try it once because it has all the ingredients to make you change your opinion about coconut recipes.
The best part about this coconut rice recipe is that you can have it without any side dish or curry. The coconut itself gives a very nice taste and aroma to the rice, that you can have it just like that.
I have given this recipe a unique twist of my own by adding fried onions to it. This has two fold effect – first, it's flavor can help you try this recipe even if you don't like coconuts and second, the fried onions adds a sweet taste to the dish which helps you eat it just like that.
This is a good Lunch box recipe which I am sure your kids are going to love. So try now…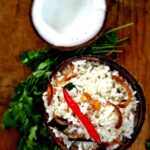 Coconut Rice Recipe
Print Recipe
Ingredients
Ingredients to cook Rice:
Basmati Rice / normal rice - 1 cup

Grated Coconut - 2 cups

Vegetable Oil - 1 tsp

Coconut oil - 1 tsp

Mustard - 1/4 tsp

Jeera - 1/4 tsp

Curry Leaves - 1 Sprig

Chana dal - 1 tbsp

Broken Urad dal - 1/2 tsp

Cashews - 6 - 8

broken

Asafoetida - 1/4 tsp

Green Chilli - 2

slited

Ginger - 1 inch piece

crushed

Salt - 1 tsp or as per the taste
Ingredients to fry onion:
Fried onion - 1 big

thinly sliced

Corn flour/ maida/ rice powder - 1 tsp

Oil - To deep fry
Instructions
Method to fry Onion:
Take a bowl add the sliced onion and add corn flour/ maida/ rice flour and mix the onions well.

Heat oil in a pan and deep fry the onions until they are golden brown. Drain it onto a tissue paper.

Your fried onions are ready. Set aside.
Method to make Coconut rice:
Cook the rice along with 1/2 tsp salt.

Once done drain the water from the rice and set aside. Let it cool down.

Now heat vegetable oil and coconut oil together in a pan.

Add the mustard seeds and let it splutter.

Once it starts spluttering add jeera, curry Leaves, chana dal, broken urad dal, cashews, asafoetida, green chilli, ginger and salt one by one.

Now saute everything on a low flame until golden brown.

Add the grated coconut and saute for 1 minute and turn off the flame.

Add the cooked rice and mix well.

Now finely add the fried onion and mix thoroughly.

You can add more salt if needed.

And the coconut rice is ready to serve.

This can be served along with any pickle or you can have it just like that.
Recipe Notes
Fried onion is optional in this recipe, so if you want you can skip that step.
A lot of time, effort and passion goes into each post. My greatest satisfaction comes from your feedback. If you really liked this post and found helpful to you, please take a minute of your time to leave a comment and share it so that others have access to it as well. Thank you all for your support.